Posted by Rebecca in Cycling
on Jun 30th, 2010 | 3 comments
A week after the huge steaming dump known as Ironman Boise, Jas and I embarked to Mt. St. Helens for a "redemption ride," as we affectionately referred to it. We signed up for the Tour de Blast, an 82 mile ride that consisted of climbing 41 miles up Mt. St. Helens and then turning around to fly back down it. We were all gung ho about making this ride our beeyotch after Boise's wind gusts slapped us around. Unfortunately, for the second weekend in a row, things didn't go according to plan.

I reluctantly yanked my groggy ass out of bed at 5 am to get ready for the long trek to the mountain. It was going to take 2 hours to drive there and we planned on riding for several hours, so this was going to be an all day endeavor. Jason's dad picked us up at 6 am and we took off down I-5. Almost immediately we noticed that the weather was less than ideal for a mountain ride. I've lived in Seattle for almost 9 years and have grown accustomed to the gray days and constant drizzle, but 54 degrees and rainy in mid-June is just cruel. Since I hadn't packed my snowpants and winter gear, I asked if we could stop at a store on the way to the ride so I could pick up gloves and a windbreaker due to the inclement weather, as well as some electrical tape to re-secure some handlebar wrapping that was starting to come undone.
We got to Chehalis and found two stores that were open: Wal-Mart and K-Mart. Faced with the worst Choose Your Own Adventure path imaginable, I opted for K-Mart since it rang of nostalgia instead of evil corporate greed. We pulled up and initially thought the store wasn't open yet due to the vacant, post-apocalyptic parking lot, but once we let the tumbleweeds roll by, we checked the store signage and found that K-Mart was indeed open for business.
I headed into the store and stopped first for a bathroom break, where I got to enjoy listening to the morning cleaning lady argue with someone in Spanish while sitting in the stall next to me. Afterwards, I marveled at the "Layaway Pick Up" sign (how 80's!) and wandered the aisles looking for any of the three items I needed to purchase. I couldn't find anything except for nine variations of "World's Greatest Dad" t-shirts, so we asked the cashier for help. I found out that they didn't have any of the items I was looking for — I could maybe understand not having gloves, but a store that doesn't carry jackets or electrical tape? No wonder they're going out of business.
Frustrated, I begrudgingly resorted to stopping at Wal-Mart to procure my items. I found a black $7 windbreaker that looked like a Hefty bag and had "Chinese child labor" written all over it. After nabbing electrical tape and some cycling gloves, we were finally able to exit this middle American wasteland and continue on to Mt. St. Helens.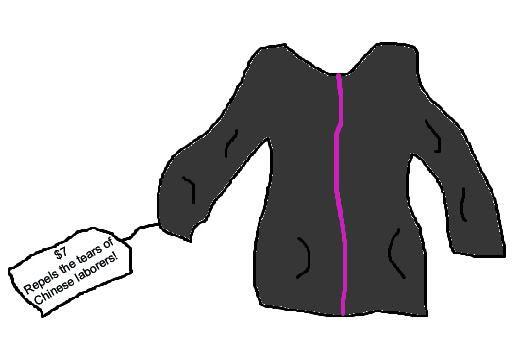 We arrived at the school where the organized ride started and picked up our registration packet. After meeting up with some teammates who were also doing the ride, we all embarked along the road that would lead us to the top of the mountain. It was cold and rainy — my sunglasses fogged up almost immediately, and riding too closely behind Jason resulted in an immediate spray of muddy water all over me. Fantastic.
The climbs weren't bad at all — gradual and long, but I must be getting better at climbing hills because the stubby Asian legs were doing pretty decent that day. Climbing also kept me warm; unfortunately, when we stopped at the first aid station and I stopped working, I got pretty cold relatively quickly. We attempted to shake off the cold and damp and trudged on to aid station #2.
When we stopped at the second aid station, one of the race organizers discouraged us from going the final 13 miles to the summit, in typical Gandalf fashion. Apparently temperatures were continuing to drop, and the top was especially cold with a mix of rain and snow. Several cyclists were getting hypothermia and had to be shuttled down, and they were running out of shuttle rides.
While we all debated on what to do, the waiting around meant I started to get colder and colder. I scanned the aid station and saw a huge group of cyclists grouped together and wondered what they were doing before realizing they were all huddled three athletes deep around a huge fire pit, trying to warm up. They looked like spandex-clad hobos minus the woeful harmonica music. (One cyclist later told me the huddled masses reminded her of the scene from March of the Penguins where the animals huddled together with their eggs at their feet — also an apt visual.)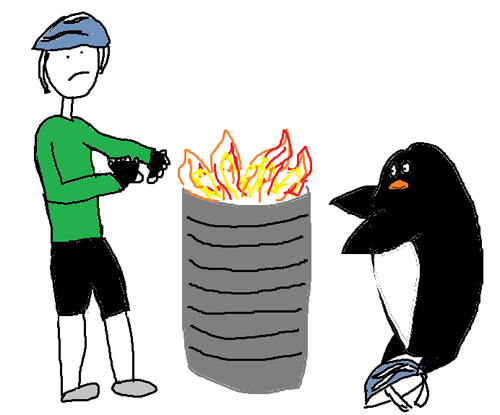 Jason and his dad macho-ly wanted to continue to the top, but I've seen Alive and I know how much those two can eat, so I didn't want to get stranded up there and have to fend off two ravenous Panamanians who felt like partaking in some Korean BBQ. We compromised and decided to head back down the mountain and make up the lost mileage by climbing back up a ways.
As soon as we began our descent, my brain screamed, "I immediately regret this decision!" My shoes and gloves were soaking wet from the rain, so my hands and feet instantly froze as I shot down the mountain. My faith in my motor skills declined sharply as my hands grew stiffer and stiffer, so I rode the brakes with three functioning fingers as I wobbled downhill, fending off shivers. I saw Jason and his dad waiting for me in front of the Mt. St. Helens Forest Center and stopped to meet them, shaking like a scared little bunny.
We headed inside to warm up and figure out what to do. I scanned the lobby of the Forest Center and saw about a dozen cyclists looking like soggy and miserable refugees. Some were given blankets, while others were so desperate for warm clothes that they shelled out money in the gift shop for commemorative Mt. St. Helens fleece pullovers (which I hope were adorned with the exclamation "I had a BLAST at the Mt. St. Helens Forest Center!").
The three of us were ushered into a back display area and plopped next to a radiator. One of the employees handed me a cup of coffee, but I immediately had to put it down because I was shivering so hard, the cup's contents were threatening to splash all over the place. To keep me occupied, another employee showed me pictures of Mt. St. Helen's path of destruction way back in 1980.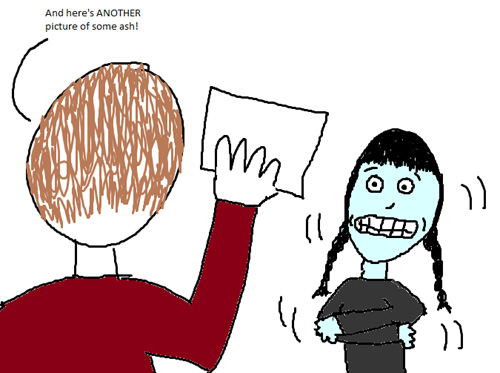 Jason and his dad opted to continue down the mountain back to the school where we started, but I was too cold to be able to descend all the way down so I elected to wait with the other wet and freezing cyclists and hope for rescue. I took brief refuge in the ladies' restroom and virtually molested the hand dryer for about 20 minutes in a sad attempt to dry my gloves and clothes.
After a while, it felt like I was waiting with a group of people plucked straight out of The Grapes of Wrath. I heard them pine for warmth and sun as if they were dreaming of a new life out west:
Cyclist #1: "I hear they've got warm showers back at the school!"
Cyclist #2: "And pipin' hot beverages and pasta!"
Cyclist #3: "I tell ya, things will be great once we get to the bottom of this here mountain."
Meanwhile, a couple of cyclists and I conspired to pool our money together to try and bribe some Forest Center tourists to give us a lift back to the school.
Lady: "I have fifteen dollars."
Me: "I've got one dollar."
Lady: "We have sixteen dollars!"
As we were plotting to commandeer a tour bus in an epic Lord of the Flies-like fashion, out of nowhere the Montana Boys Choir sauntered into the lobby and decided to randomly belt out two religious songs in front of an audience composed of smiling, awestruck Forest Center employees and scowling, shivering cyclists.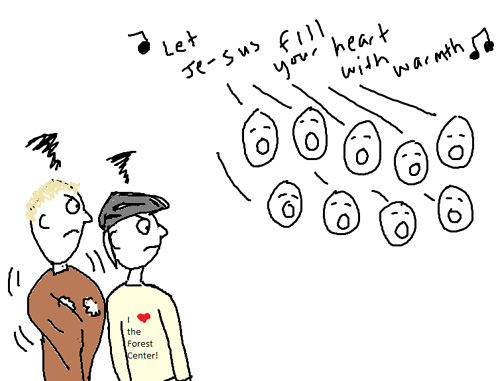 Eventually, a school bus pulled up and we click-clacked onto the bus while wielding our cumbersome bikes and our drenched gear. I managed to get two compliments on my Cervelo P2, which ended up being the highlight of my day. We all couldn't help but laugh at the sight of a bus full of cyclists with their bikes sticking straight up in the air, balanced on one tire.
We finally got back to the school and I changed into a dry pair of clothes. My 82 mile training ride turned into 32 miles of shivering failure. I drowned my sorrows in a gigantic hot chocolate and about half a pizza, wondering when I'd be able to finally get in a decent bike ride. Sigh.