Posted by Rebecca in Gear and Equipment
on Apr 6th, 2009 | 9 comments
Last year was my first triathlon year, and since I wanted to do it on the cheap (well, as cheaply as I could, anyway), I borrowed a ton of gear from my friend, Christine. She lent me her old bike, swim caps, goggles, her race belt, timing chip anklet, and her old wetsuit. The wetsuit was a bit old but did its job — it prevented me from freezing to death in the chilly lake waters and it kept me buoyant. However, by the end of the season the wetsuit was starting to get even more loose fitting and tattered than when Christine had initially lent it to me — the left leg was starting to look like a bell bottom due to an increasingly growing tear, and seams started bursting all over the place. Whenever I swam I felt like water was wooshing through the suit due to its loosey gooseyness. I knew that if I wanted to race again next season, I'd have to get my own wetsuit.
Well, 2009 rolled around and my training group, TN Multisports, secured a sweet sponsorship deal from Zoot. My trainer's boyfriend, Mark, convinced me to get an uber-hardcore Zoot suit, the Zenith 2. It's a seriously bad ass suit, with extra padded areas on the torso and legs and a thinner material on the arms and shoulders for better range of motion. The extra padding and streamlines make the suit look like the Batsuit or a superhero suit, only without the stylish cape and handy utility belt. (Note the $650 price tag — holy hell, that is an expensive wetsuit. Thankfully, I received a nice team discount.)
I finally got off my lazy ass and picked up my suit yesterday. I had to try it on to make sure it fit well, and once I squeezed my flabby body into it I wanted to take some pictures but my camera battery was dead. I ended up lounging around the house and reading crap on my laptop for 30 minutes while sweating in my wetsuit until my battery was charged enough to snap a couple photos. At one point Jason shouted from upstairs, "Do you still have your wetsuit on?!" I said, "Um…", and he came downstairs, saw me, and burst out laughing.
Anyway, for your viewing pleasure: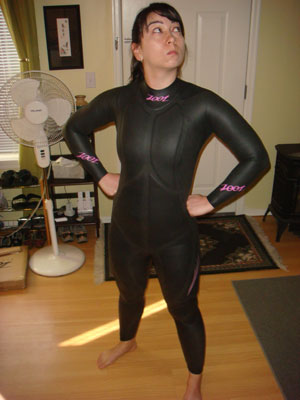 I tried going for a cool superhero pose but ended up looking mentally disabled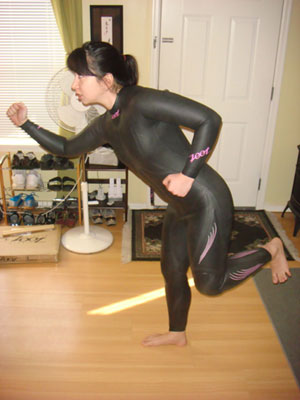 This is exactly what I look like when I run to the transition area from the swim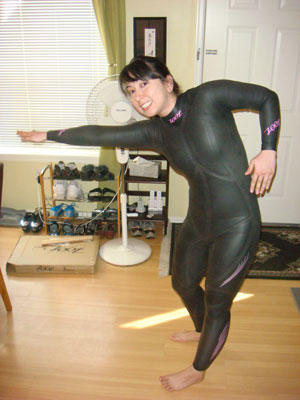 The only time you'll see me smiling and swimming at the same time
I'm looking forward to trying this bad boy out in the open water and seeing if it makes any sort of difference in my swim. I expect it to turn me into Dara Torres — I have the technology to be bigger, faster, strongerrrrrr. Or at least post a sub-50 minute 1.2 mile swim…