Posted by Rebecca in Health and Wellness
on Jul 8th, 2011 | 9 comments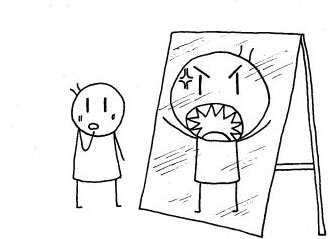 Most of my posts on Mediocre Athlete contain self-deprecating comments and faux-negativity about my workouts or my races. I do it for the lulz, but the truth is that nobody is harder on me than myself. At the end of the day, I am my own worst enemy, an exceptionally tough critic. I'm sure a lot of you feel the same way; after all, a big reason you train for a race, no matter the distance, is to push yourself outside your comfort zone to see what you're truly made of. For me though, I often push myself so hard that it can end up being detrimental. I'm like my own overbearing Asian mother ("Why you no run faster during race? And how come you not doctor?").
Ever since I had a taste of my first half Ironman three years ago, a big goal for me is to go sub-6 hours. I feel that it's something I can easily accomplish. Each year I've continued to improve and become more familiar and comfortable with the sport. After four half Ironman races thus far, however, my personal best is a 6:29 from 2010's hellishly windy Boise 70.3. I know that everyone was much slower that day, that I couldn't control the weather, that I would have cycled much faster if conditions were better, that I actually placed decently in my age group. But I was focused on that time goal like Gollum's fixation on that seemingly innocent little ring, so I couldn't help but feel slightly disappointed.
Then Ironman Canada came and went and I had a race that exceeded my expectations. I would have gladly traded in every bad race or training workout that year for the day I ended up having, and after my biggest race of the season I was at an all-time high. I had just done an Ironman, for schmuck's sake — I could do anything. No, I could crush anything. I was going to do a marathon and I was going to kill it. I was going to do a bunch of 70.3s next year and they'd all be under 6 hours. Hell, I'd be creeping up on 5:30s. I'd improve across the board and make this sport my bitch. Nothing was going to stop me.
And then, amid my marathon training, I developed Achilles tendinitis. At first it developed as a slight tightness and ache at the beginning of my runs. Then, with each step I'd take, the tightness would last a little longer. Eventually the pain kept me company throughout my entire run, but I'd stubbornly soldier on because I wasn't going to let a little stiffness bring me down. I had just done an Ironman, damnit, and now I was going to blow my old marathon time out of the water.
That marathon never happened for me. I had to stop running completely, and as frustrating as it was to be told by my coach to eat a $140 entry fee (fucking Rock 'n Roll and their wallet-rapingly high costs) and not race, I knew I had made the smart decision when I couldn't even run twenty feet to cheer for Jason as he passed by without having my Achilles seize up. And so, instead of conquering a marathon and posting a 20-minute PR, I stayed off my feet and cycled through the winter.
It would be five months before I'd run again. I feared that I'd be starting at the very beginning and would be as bad as I was when I first begun running years ago. The thought of losing all my running fitness had nagged at me throughout those five months. When I did start striking pavement again, I was surprised to discover that I hadn't slipped as far down the ladder as I'd thought. Teresa had assured me that my cycling would help keep my running strength up, and it did. But still, after a great year of runs and workouts, having to start even a few steps back was discouraging.
My running injury affected me mentally a lot more than I thought. I put on weight in the off-season and felt lethargic and weak. My swimming felt off, my running was neutered; the only thing I felt confident about was my cycling because I practically lived on my bike over the winter. By mid-June I had just started to ramp up my runs — I felt as if the season was already half over, and I had only just gotten started.
At my lowest points, I'd look up my teammates' race results and lament that they've all gotten faster while I've been standing still. I'd compare my outdated half Ironman times to my teammates' latest races from completely different courses and unreasonably tell myself that everyone is getting better at this sport but me. But the reality is that it's not me against them. It's me against me.
I'd cry on Jason's shoulder, my thoughts heavy with doubt and my heart aching from being so irrationally worried. "You're too hard on yourself," he'd always tells me, and he's right, of course. I finally confided in my coach and she called me immediately, talking me down from the ledge over the course of a nearly 40-minute phone call. She knows what it's like to be injured. She knows what it's like to work so hard and still not have things go your way. "Sometimes it's just not your day," she said. She's right too. "You can't compare yourself to anyone else. You have to just focus on yourself. Your day will come, I know it will."
Embarrassment flooded me as I thought about what Teresa has gone through these past couple seasons, how her ulcerative colitis has landed her in and out of the hospital and sidelined her from enjoying her career as a professional triathlete. She loves triathlons more than anyone else does, yet she refuses to let her illness get her down or rob her of the joys and thrills of the sport, and here I am whining and feeling sorry for myself because I've gained ten pounds and am not improving as consistently as I expect to.
I watched my boyfriend race in Boise, and I felt ashamed once again when I saw one of my teammates, Barb, out there on the course, grinning from ear to ear and having the time of her life. She's a lot older than me and slower, yet she doesn't give a shit what that clock says when she crosses the finish line. To her, the simple act of racing and finishing is thrilling enough, and being healthy and active is what's important, not beating herself up over precious minutes.
Two weeks later, I stood on the sidelines at Ironman Coeur d'Alene, cheering on my teammates who had set out to conquer 140.6 miles that day. After a long day of spectating and hollering, I watched them all roll in one by one. Some were fast, some were steady, some were slow. But it didn't matter — the looks on their faces as they each approached the finish line reminded me why I love this sport so much. They may have had individual, private goals when they woke up that morning, but each looked just as happy and proud as everyone else when they crossed the finish.
My first big race of the season, the new Rev3 half Ironman in Portland, is on Sunday, and leading up to the event I have been plagued with a plethora of emotions ranging from doubt, fear, a lack of confidence, to indifference. I don't know what Portland has in store for me; it's been nearly a year since my last endurance race and over a year since my last 70.3. At this point, however, I've decided to stop worrying, and once I made that decision I felt as if a huge weight was lifted off me. A large part of my team will be there to race, and being a part of such a fun and encouraging group will be enough to push me to do my absolute best and try to have as much fun as possible. Whether I cross the finish line in under six hours or if it takes me closer to seven, I'll be thankful that I'm healthy and fit enough to participate and try not to take my body for granted.
I still get down on myself, and I know that the doubt and worry will always be there, but I can at least try to control how it affects me. This week I've been battling an injured hamstring and a tight right shoulder, but aside from some treatments, ice/heat, and stretching, there's nothing more I can do but hope it gets better by Sunday and deal with it if it doesn't. That's what this sport is all about: adapting to various problems thrown your way, be they injury, weather, mechanical issues, or mental blocks.
It's easy to look at all the fast, fit girls on my team with their ridiculous abs and envious race finish times and try to aspire to be like them. To compare training hours and worry that I'm not doing enough each week. To look at the numbers on that scale and swear off pizza for the rest of my life. What's difficult is constantly reminding myself that I'm only competing against myself, and I can be my greatest ally or my biggest foe. This season so far I've been the latter. Now it's time to nut up, quit sulking, and remember why I got into this sport to begin with: to challenge myself, get in better shape, and to have fun. It's time to conquer my enemy.