Posted by Rebecca in Random
on Sep 19th, 2013 | 1 comment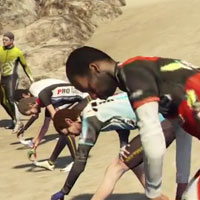 Grand Theft Auto V debuted this Tuesday, which was also Jason's birthday, so to be a good girlfriend, I pre-ordered it for him so he could play this week. The game is much more immersive and expansive than its predecessor. In addition to being able to fondle strippers at the club and visit a medical marijuana dispensary, apparently you can also race in a triathlon:
Clearly a triathlete wrote the dialog, because gems like "My watch shocks me if I go off-pace," "Now this is a mid-life crisis I can enjoy!", the painful grunts as your player switched from the bike to the run, comments about chafing, and "There's a lot of middle-class angst down there today!" can only come from someone familiar with the sport.
I've never heard a five minute triathlon with only eight participants and no official transition area, but this mini-game still made me laugh since it combines two of my favorite hobbies: video games and dumb amounts of multisport training.