Posted by Rebecca in Random
on Oct 22nd, 2013 | 14 comments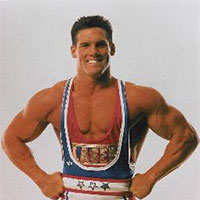 On October 12, after nine supremely awesome years of dating, the BFG surprised me with an epic marriage proposal in New York City that involved the eager participation of a former American Gladiator. No, I'm not kidding. This post has nothing to do with mediocre fitness but the engagement has enough of a backstory that I figured I'd write about it so I can just pass the link along to anyone who squeals and asks how Jason proposed to me. If you're all about the sports stuff, skip this one. If, however, you'd like to read a somewhat long but amusing, pop-culture-rich tale of how a Mediocre Athlete met a Big Friendly Giant and got engaged to be married nine years later (and how Laser the American Gladiator fits into all of this), then this post, my friend, is right up your alley.
The Origin Story
On August 6, 2004, I turned 21 years old and rallied some friends to celebrate by bar-hopping through some of the sketchiest watering holes the University District had to offer. One of my friends brought along a guy we had both worked with back when we were poor 18-year olds employed at Best Buy near the mall. His name was Jason, and he started out in the Media department at about the same time I got hired as a cashier.
Jason and I had hung out only once before in a group setting so I vaguely knew him but we weren't exactly friends. However, after a few bars and many horribly mixed birthday drinks, we found ourselves tucked into a corner bonding over a common interest: awesomely bad Jean-Claude Van Damme action movies. We chatted for hours, sharing our favorite gratuitous "Van Damme does the splits" scenes (spoiler alert: all of them) and bonding over our love of film, from guilty pleasures to art-house indies and everything in between. At the end of the night, I whipped out my gray Nokia 3300 series phone and took down his phone number.
I texted him during class the following week, and he responded (aww yiss). Over the next five weeks, we racked up obscene cell phone bills, texting back and forth. We went to a party together and saw a few amusingly terrible movies. In a short amount of time, Jason and I managed to cram in a lot of "non-date" dates, as I fondly refer to them, since we weren't explicitly dating each other yet but were definitely enjoying one another's company.
The First (and Probably Best) Birthday Gift to My BFG
As Jason's birthday approached, I wanted to get him something funny and memorable. I decided on two items. The first was a bootleg DVD of The Monster Squad because a legitimate DVD copy didn't exist at the time, and because we both agreed that it is one of the best movies from our childhood. The second was something I was especially excited about. I had come across a ghetto-fabulous site called HollywoodIsCalling.com, where you could pay to have a D-list celebrity call a friend of yours for whatever reason you decide.
After scanning the list of famous people to choose from, I immediately narrowed in on the one name that I didn't feel was "D-list" at all: Jim Starr, aka "Laser," from one of the greatest television shows in modern history: American Gladiators.
Obviously I forked over my $19.99 and chose the one-and-only Laser to wish this tall, funny, smart, and charming guy I had a crush on the very best birthday ever. Giddy, I booked the call and waited.
And waited.
And waited.
Jason loved the bootleg copy of The Monster Squad, but he never mentioned anything about receiving a phone call from a personified version of our 90's-tastic childhood. So after waiting a few days, I 'fessed up and told him I had paid twenty bucks to have Laser the American Gladiator call and wish him a happy birthday. Naturally, he was as stoked as a 22-year old dude who grew up watching shiny spandex-clad musclemen and women pummel feather-banged females and mulleted dudes while Larry Csonka offered commentary could possibly be.
He noticed he was getting a series of missed calls from a California area code, so he looked up the phone number and found it belonged to a Los Angeles-area gym. Jason called the facility and had a hilarious exchange with the receptionist:
Receptionist: "How can I help you today?"
Jason: "This is going to sound really weird, but does an American Gladiator work there?"
Receptionist: "Uh, hold on…yeah, yeah, I think so."
Jason: "Oh, sweet. I think he's been trying to call me!"
The woman put Laser on the phone with Jason and they had a pleasant five minute conversation. (Apparently, the hiccup was due to the fact that when I booked the call, I used Jason's poker nickname instead of his actual name, which led to Laser being confused when he called and heard Jason's voicemail message and not recording anything because he kept thinking he had the wrong number).
The one-off birthday phone call turned into an awesome story, which ended up being an even better birthday present than Jason could have imagined. Naturally, pretty shortly after his birthday, we started officially dating right around the beginning of October. (Because how could you not lock down an awesome girl who booked you a phone call from the greatest American Gladiator in the show's run? You can't. You're powerless.)
As years passed, we'd tell the story to new friends and joke to one another how hilarious it would have been if someone called Laser to book a marriage proposal, feeding him an American Gladiators pun-filled script that included cheesy show references like, "You 'Broke Through' and 'Conquer'-ed my heart." This became an occasional running joke between the two of us for the next nine years.
Nine Years Later
On October 10th, Jason and I traveled to upstate New York for a friend's wedding. I usually grumble about having to attend weddings but was in a pretty shmoopy mood because the weather was fantastic and I had a good amount of wine in me. Plus, Jason looked mighty foine in his new custom suit, and it was nice to see my normally sweatpants-clad boyfriend get cleaned up for a schmancy occasion.
We spent the night in Albany and cabbed it to the train station the next afternoon so we could spend the next two days in New York City before heading back home. When we got in, we checked into our hotel and walked over to Koreatown for a late lunch. (Random aside: my hilarious Korean mom warned me to be careful wandering through Koreatown and said it was dangerous, because apparently she knows the safety rating of every major city's Korean borough across the United States. When I told her I'd be fine and that I'd have my big tall boyfriend to accompany me, she retorted, "Big uhn tall don't protect from gun in you face!!" Thankfully, no tiny Korean person decided to rob us on a bustling city block in the middle of the day.)
A Saturday Night to Remember
I had been battling the early stages of a cold since Wednesday night, so by the time we got to New York City, I was a congested, snotty mess. That evening, however, we had reservations to WD-50, a popular restaurant on the Lower East Side owned by whimsical chef (and sometimes Top Chef guest judge) Wylie Dufresne, so I put on my game face and a nice outfit despite not feeling 100% healthy.
During the middle of our meal, Jason excused himself to find the bathroom. He disappeared for several minutes, prompting me to text him with "Did you dine and dash on me? If so, joke's on you because we have 4 courses left." Eventually he reappeared, apologizing for the delay. I attributed his tardiness to something mundane like a long bathroom line or explosive diarrhea and didn't notice that when he sat back down, his hand was shaking as he reached for his beverage.
We finished our meal and hit up a pharmacy so I could stock up on some cold medicine. When we got back to our hotel, I was feeling pretty foggy-headed from the cold and envisioned how awesome it would feel to pop a couple of Nyquil tablets and get my jammies on. First, however, I noticed the Empire State Building was all lit up so I paused my super awesome plans to get comfy and drug myself so I could snap a photo.
Jason waited for me to finish giving into my Asian photographer stereotype, then said, "Hey, I sent you something I want you to listen to." I was confused that he'd text me an audio file instead of just pulling it up on his laptop and hoped it wasn't something lame like his way-too-late discovery of The Jerky Boys.
I walked into our hotel room's sitting area to cue up the file. Before I played it, I noticed there was a bottle of champagne sitting on ice with two flutes and a covered plate sitting next to it. Okay, now I was really confused.
Me: "What the hell, why is there champagne and a [peeks under the cloche], what is that, a hamburger?"
Jason: "I think it's an orange."
Me, lifting the lid: "Oh right, it's a bunch of fruit. And a box of chocolates. What's this all doing here?"
Jason: "I dunno must be a mistake listen to that thing I sent you now please."
I shrugged off the mystery champagne and mixed fruit as a mistake. (Seriously, I thought it was delivered to our room by accident. I am not a smart person. I blame the cold.)
Finally, I played the file. Here's what it was:
Ten seconds in I started laughing and thinking "Whaaaaa this is funny." Ten seconds after that, it dawned on me what the point of this message was.
Seconds 0-10 Rebecca: "Ha ha, it's Laser! Jason bought me a funny phone call. Yaay."
Seconds 11 – 20 Rebecca: "Wait a second IS THIS A MARRIAGE PROPOSAL OH MY GLOB IT IS. It's happening! Baba baba baba ba baaa!"
Again, not the smartest.
When I realized what I was listening to, two things happened:
I made the exceptionally cliche "I'm being proposed to" move of clamping my hand over my mouth and crying immediately.
My mind gave the following instruction to my body: "Listen up, body! I know you're battling a cold but some super important shit is going down right now so you're going to have to not feel sick for the next hour or two. This is for real, dude. Jam that virus down into the right big toe for all I care, but these symptoms need to disappear for a while."
My body responded with "You got it, boss!" and promptly reacted by producing an unholy amount of sweat I had only previously experienced during the disgusting Crotchfest 2012 draining.
As the file continued to play, Jason took a box out of his pocket and opened it. It was an engagement ring, and I sweat-cried (swied?) even harder. When the message finished, I stared at him and could only muster an incredulous "Really? Seriously?"
He smiled and said three simple words: "Please say yes."
I blubbered out an "Of course" and hugged him tightly, smothering him with a thousand snotty kisses. He hugged me back and kissed me back, and we stood in each other's embrace, silent, for what felt like an eon. Finally, he broke the silence, and his first words to me as an engaged couple were the following:
Jason: "Wow, you are so sweaty."
And that's how we got engaged.
Wait, But Laser!
Oh right, Laser! After your standard post-engagement schmoop time, I said to Jason, "So you booked Laser through Hollywood is Calling?" He laughed and said the site looked pretty defunct and Laser was permanently listed as "unavailable" no matter which day he checked, so he found him on LinkedIn of all places and sent him an email out of the blue.
That's right, Jason connected with a former American Gladiator via LinkedIn. Behold, the powers of the Internet.
So Jas emailed him something along the lines of "Super random request," rehashed the backstory in case Laser forgot (which I don't see how he could since Jason and I are pretty epicly awesome), and asked if he would be willing to record a little marriage proposal message.
Surprisingly, Laser responded less than 24 hours later and said he would be honored to help craft the best proposal ever. They went back and forth a few more times (I've seen the thread and it's hilarious — at one point, Laser signed one email with "Never Surrender") and eventually Laser sent over the recording of the message Jason had crafted for him. Jason was super grateful and offered to make a donation to the Make a Wish Foundation in Laser's name as a thank you since the Gladiator didn't want any monetary compensation and opted to help out of the goodness of his big, muscley heart.
Oh, and obviously, the champagne and fruit and chocolate were for us. During Jason's long bathroom disappearing act, he called the hotel and asked them to send up a bottle. I sat in bed with my BFG, sipping bubbly while my body successfully kept my cold at bay for a couple hours. Despite the cold, the swying (sweaty-crying), and the still-burned asscrack, it was a pretty perfect evening.
And that, my friends, is how an American Gladiator helped Jason plan the best marriage proposal ever. It's not your standard romantic proposal, but to me it was perfect because it brought our origin story full circle. Besides, how many people can boast that an American Gladiator helped her future husband propose to her? Probably not too many. Thanks, Laser. You created not one, but two of the funniest, most cherished memories Jason and I will ever have together.
Update: Jason emailed Laser this blog post and he responded shortly after, saying he loved it. He gave us some great marriage advice and told us to "please keep in touch." We're totally BFFs with an American Gladiator. So gonna send him a wedding invitation.