Posted by Rebecca in Random
on Aug 19th, 2010 | 4 comments
This is a tapir:
This is a taper: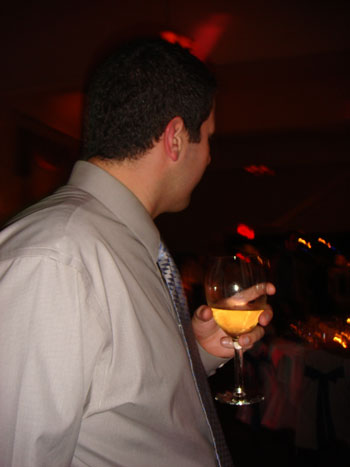 Not the most traditional taper, but it's how Jas and I roll. We're less than two weeks away from Ironman Canada and have finally started to scale down our workouts. It couldn't have come a moment too soon — I'm getting burned out on exercising and just want to get this pesky Ironman over with already.
The taper's timing was pretty crucial for us — we had a Portland wedding to go to and the Lake Stevens 70.3 race to spectate, so even though we didn't have as many training hours, we still had to cram in a bunch of stuff over the weekend. We drove down to Portland Friday night and had dinner with a friend of ours. Jason and I got suckered into having a couple beers with our buddy, and after not having drank much lately because of the relentless onslaught of workouts, a measly two beers made me feel a bit tipsy. Stupid training.
On Saturday we woke up and had breakfast with another friend of ours and his girlfriend. It was going to be a super hot day out, plus I didn't want to run around downtown Portland, so after breakfast I went back to the hotel and ran in the fitness center. My treadmill TV was stuck on MSNBC at full volume, so I ran and watched some "Criminals Caught on Tape" show where the most recent footage was from 2000.
After the run, we showered and got a late checkout. Since the wedding wasn't starting until 6 pm, we had our bags held and figured we'd find a place to change later. We killed time by seeing a movie and getting some food, then we returned to the hotel and got ready for the wedding ghetto-style by sneaking back into the fitness room and changing in the bathroom. At one point someone came in and started using one of the treadmills. We got a weird look when we finally emerged from the bathroom wearing a suit and a dress. I bet she thought we were a crime fighting duo (or that we just got it on in a gym bathroom. Gross!).
At this point it was nearly 100 degrees outside, but thankfully the wedding was indoors. Unfortunately, the air conditioning didn't help too much, and by the time the reception started and people were dancing and acting goofy, we were a sweaty, sticky mess. Since we planned on driving back to Seattle after the wedding, I only had a glass and a half of wine while Jason took it upon himself to drink it up one last time before Ironman Canada.
When the dancing started, we had the following exchange:
I start dancing in front of him
Jason, looking concerned: "How much have you had to drink? Are you going to be okay to drive back?"
Me, looking sheepish: "I'm not drunk, I'm just a crappy dancer!"
Jason, laughing: "Oh."
Thanks, Jas. Eventually we left the wedding and I drove us back to Seattle. I was tired and thirsty and wondering if I'd be able to get up at 4:30 am to catch the start of the Lake Stevens 70.3. We got stuck in construction traffic (seriously, construction traffic at midnight on a Saturday) and didn't get home until 1:30 am.
Three short, unsatisfying hours later, the alarm went off and Jason got up to head to the race. I was still really tired, so I decided to meet the crew later so I could try and get a bit more sleep. Jason and his dad caught the start of the race and I met up with them before our team finished the bike portion. It was hot and sunny outside, but people seem to race well on the course despite the fact that the lake smells like garbage and the bike stretch is full of rednecks, so our team mostly did well.
After the race, we headed home and I went straight for the bed. I had been feeling pretty tired lately, and the weekend took a lot out of me. I slept like a champ, and when I woke up my ear was aching. Cue the paranoia: OH MY GOD I'M GETTING SICK I KNOW IT'S AN EAR INFECTION I WON'T BE ABLE TO RACE CANADA ALL THESE MONTHS OF TRAINING DOWN THE DRAIN OH NO OH NO OH NO
I rested the remainder of the day and got a good night's sleep, and by Monday I felt fine. Crisis averted! Tapering is a funny thing. On the one hand, it's giving me some much appreciated time to rest — I've been feeling tired lately, and all of the downtime is letting my body finally take a break and recover from the incessant wave of workouts. On the other hand, I feel like sitting on my ass and only doing the occasional two hour workout instead of the customary four in one day is kind of odd. It makes me start thinking crazy crap like, "I'm going to gain weight! I'm going to lose my athleticism and everything I've built up! OH GOD I'M WASTING AWAYYYYY"
Since this past weekend, it's been no more drinking (alcohol, anyway — bring on lots and lots of water) and no more crazy workouts. We're down to the final stretch — another nine days of taper and rest, and then it's race day. Holy shit.