Posted by Rebecca in Running
on Apr 17th, 2013 | 7 comments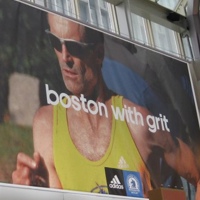 I was at work on Monday sneak-watching a live feed of the Boston Marathon as the men's leaders, a trio of Africans, battled against each other to be the first to cross the finish line and claim victory. For so long, qualifying for the Boston Marathon has felt like a pipe dream, a milestone I would be thrilled to hit but has always felt so far out of reach. When I first started running with Jason along the Burke-Gilman Trail, I would trot along at a 12:00/mile pace while he kept doubling back to me with a barely-concealed look of annoyance on his face. My first marathon was a 4:35, and my second marathon wasn't much better (in fact, my off-the-bike marathons at both Ironmans I've raced have been close to my standalone marathon times).
And then my BFG, who has always been a strong runner despite his height and his size, told me he was going to train for the Portland Marathon and try to qualify for Boston. He had run a handful of marathons, each time improving from the last, but for his age group he'd have to qualify with a 3:05 or faster. Jason, who's always been a more dedicated and more focused athlete than me, hit all his workouts, dropped some weight, and showed up to the start line on a cool, sunny Portland morning looking slim and fit and ready to run his ass off for 26.2 miles. He crossed the finish line in 2:57, earning not only his spot at Boston but a much-admired place in the "Sub-3 Hour Marathon" club.
I was inspired. Jason had just shed 22 minutes off his previous best marathon time. He encouraged me to try to qualify too, that I could get there with a little bit of dedication and perseverance. He even promised to not register for the 2013 Boston Marathon and wait until the 2014 signup opened up so we could register together if I were to qualify. So I made my 2013 season goal to run a marathon and hopefully be fast enough and in great enough shape to stamp my ticket to Boston.
My training, however, has been frustratingly intermittent. I've been depressed. Stressed. Lazy. Gluttonous. Unfocused. I've threatened to sign up for three different marathons and bailed each time, never feeling quite "ready" to commit to a specific race. So my goal of running a BQ marathon, or even a PR marathon, has slowly been slipping through my fingers. I thought to myself, "Well, maybe another year. There's always another year. 2014 won't be so special."
And then, later that Monday morning, my Twitter feed lit up with news. Scary news. Terrible news. Heartbreaking news. There were two explosions near the finish line at the Boston Marathon. People were hurt. Limbs were lost. Deaths were reported. I sat at my desk, dumbfounded. I IM'd Jason, who I had been chatting with about the men's finish earlier that morning. He responded with, "What? Are you serious?" As cruel a joke as that would have been, I wish I weren't.
I left work feeling sick, distraught, concerned. Wondering, as I always wonder during large-scale tragedies such as this one, what kind of human being would do something like this to his fellow man. My heart aching for the runners and spectators who were injured, for the family members who lost a loved one, for the victims who were probably runners themselves, now faced with a future where their favorite hobby will forever be altered due to injuries or amputations or psychological damage.
But what saddened (and angered) me most of all was this comment from a witness who was interviewed by CNN:
"I personally will never participate in an event of this nature in a city in fear that something like this could happen again," she said. "I keep replaying the moments of terror over and over in my head and am just still in utter shock. Always seeing terrible things of this nature happen all over the world on TV, my heart would always go out to those directly affected. But I never imagined in a million years I would be a spectator at the Boston Marathon running for my life."
Of all the races I've participated in, either as an athlete or a spectator, from the past several years, I never once thought, "Hey, with this large a crowd in a publicly accessible, outdoor space, we're really vulnerable to an attack." But it makes sense, if you think about it. Just as it makes sense to attack a mall at Christmastime, the security line at an airport, or Times Square on New Year's Eve. If you're intent on hurting a large crowd of people, you'll find an event where the numbers will align in your favor.
The truth is, something bad could happen to us at any given moment. We could get hit by a car while cycling, catch a stray bullet as we cross the street, or happen to be too close to a bomb that was planted in hopes of harming as many strangers as possible. But this scary reality, that we are all mortal and that the world is a sometimes frightening place inhabited by angry, unstable individuals who want to hurt others for no discernible reason, is usurped by two other, stronger realities:
There are more good people on this planet than bad people.

You only get one life to live. Make it count. 
This woman's quote saddens me because she is going to let this outlier of an event, as terrible and as devastating as it was, define her. She is going to let it victimize her. She is going to let fear overrule her, which is the intent of the attacker(s). Terrorism's goal is not to kill a handful of citizens and wound others. Its ultimate purpose is to have a single event instill fear and uncertainty into millions of people, to plant and grow a seed of anger, resentment, bigotry, racism, and inequality. To break apart our beliefs and our faith, our hopes that the human species is, more often than not, good and kind and sympathetic to one another. For this woman who is now afraid of spectating or racing, terrorism has won.
I refuse to be governed by fear or bullied by a single act of cowardice and hatred. It is a disservice not only to my core values and beliefs, but to the victims of the Boston Marathon bombings. This tragedy was horrifying, yes, but it is also an outlier. Countless races have been organized and executed with the biggest issue being chintzy medals or running out of a popular t-shirt size. And countless more races will be organized and executed safely. If you swear off attending or racing an event out of fear of being attacked, who knows, the next day you could leave your house and get hit by a car on your way to work. Every day is a gamble, but if you live the rest of your life in fear of what may or may not happen to you, you're not living a life at all.
Next year I will be in Boston to cheer for my boyfriend and for my teammates who will be racing. Or maybe I'll be running myself, having qualified this summer to earn a spot at the starting line. My dream I once dismissed as being unattainable is more alive than ever, my dedication to try my best even stronger because racing will mean something more now, something deeper and heavier than I ever imagined. The mood at the race next year will be somber, but also hopeful and celebratory. Participants will be running not only for themselves, but for Monday's victims. Spectators will stand strong, united in their unwillingness to let this year's atrocities overwrite 116 years of tradition and pride. They will not be afraid to watch, nor to run. Neither will I. And neither should you.